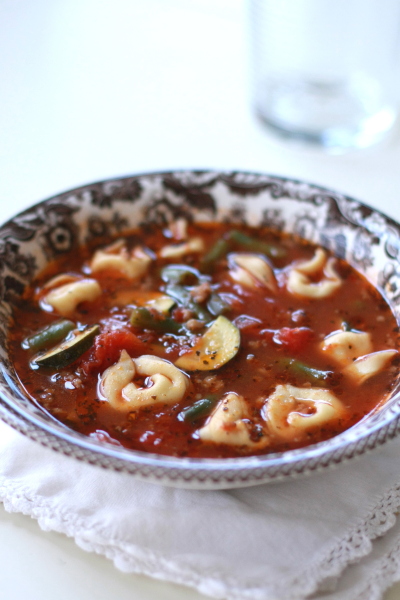 So here it is… Mom's very memorable Italian Tortellini Soup.
This soup is not only ultra flavorful, it's also fast and easy…  you can whip it up on weeknight with no trouble.
Here's how: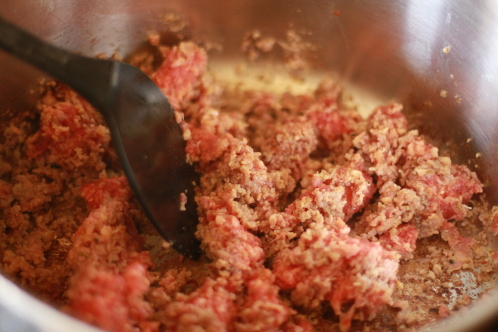 Brown 3/4 pound Italian Sausage right in the soup pot. My mom always makes her soup with 1/2 Spicy Italian Sausage and 1/2 Mild Italian Sausage.  Since I was taking soup to a friend, I went with all mild yesterday. I also went ahead and just browned the whole pound package of sausage since I was taking a quart to my friend.  That's one of the things I love about soup recipes, you can really beef them up (without doubling the whole thing) by just adding a little extra of the meat or veggies.  If you need to, just add a little more liquid to compensate too.
Make sure to drain off all the fat, since the soup will be made right in this pot.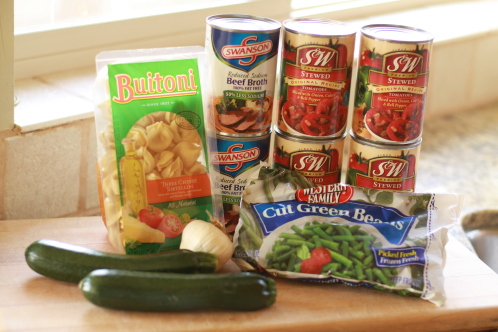 After the Italian Sausage, here are the rest of the ingredients: 4 cans of Stewed Tomatoes, 2 can of Beef Broth, 1 clove of garlic, 1 medium zucchini (or 2 small) and fresh or frozen green beans.  Since it's winter I usually go for frozen green beans.  The other ingredient that isn't shown is the fresh basil.  I just ran out of my frozen basil…  and the package of fresh basil at the store was $4!  That was just too steep for me so I used dried basil.  It's not AS good, but it's still good.  Since the recipe calls for 2 Tablespoons of fresh basil, I used 2 teaspoons.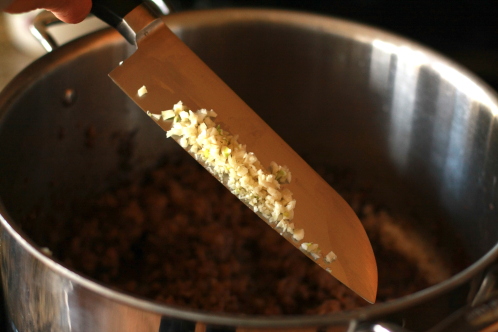 I like to add the garlic in the sausage and saute it for about 30 seconds.  Just be sure your cans are already open so you don't burn the garlic.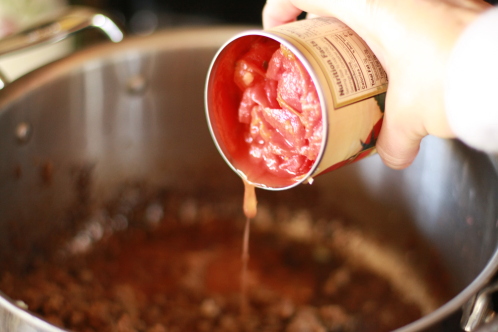 Then add the 4 cans of Stewed Tomatoes.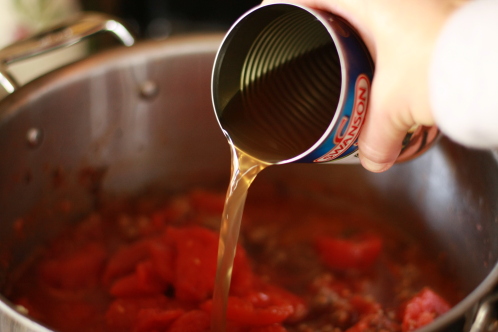 The two cans of Beef Broth.,mixe up 4 cups of broth from the Weyler's granules.
Weyler's is pretty salty, so their probably won't be any need to add salt later to the soup.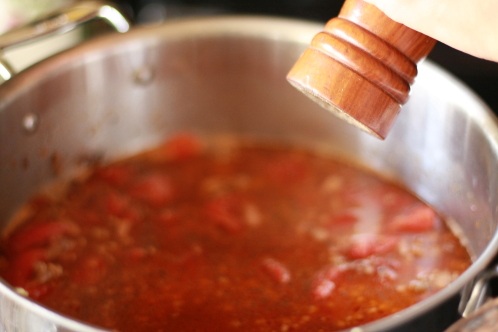 Add about 1/2 teaspoon of freshly ground pepper.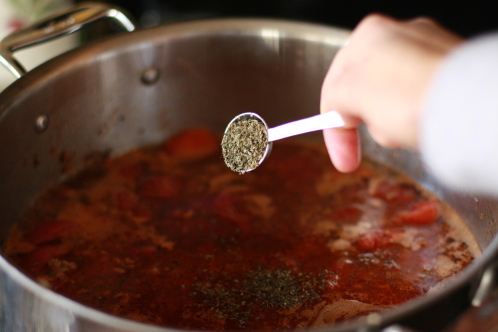 There's the dried basil.  Yes, fresh tastes better but sometimes you just need to Make it Do.  While that is coming to a boil….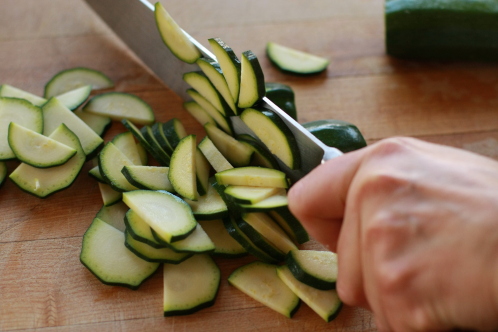 Slice up the zucchini.  Slice down the center and then slice thin 1/2 rounds.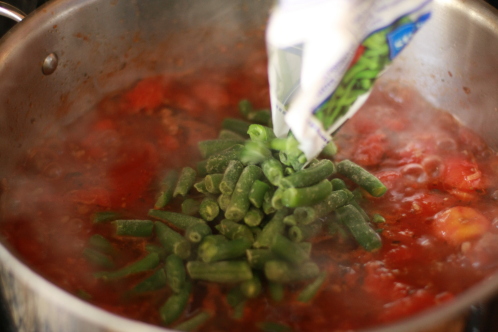 Since I was trying to "beef" up my soup a bit, I added the whole 1 pound bag of green beans.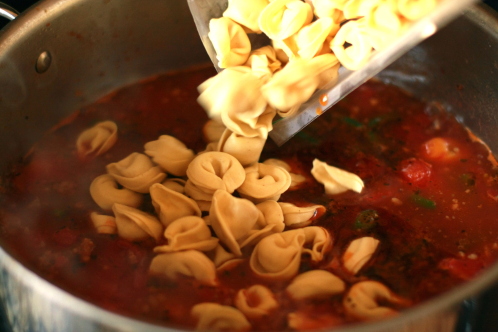 And I added the whole 10 ounce package of tortellinis.  With soup, you can break the rules and add a little more of something or a little less of something else.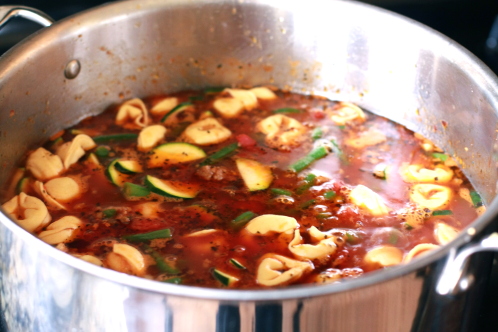 Let the soup cook at for 10-15 minutes until the tortellini is cooked.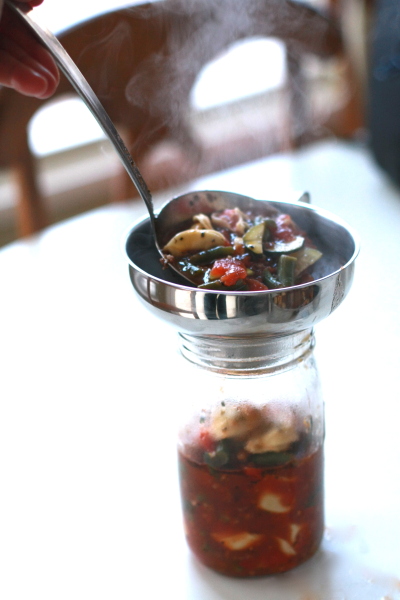 I love giving soup in a quart Mason Jar.  My wide mouth canning funnel is perfect to use, when ladling soup into the jar.  It's a great way to take a little soup to friend.  It's also a great way to store your leftovers.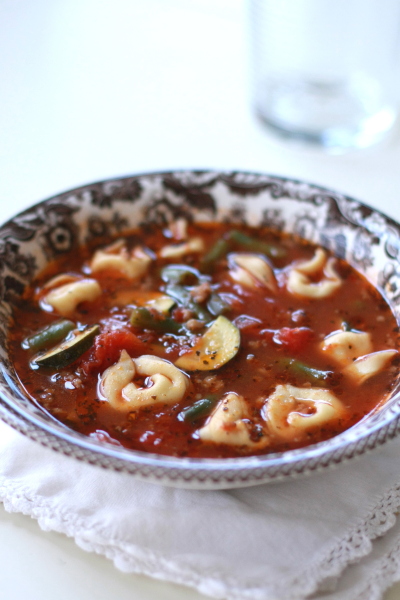 This soup is wonderful served with a sprinkling of Parmesan and a slice of crusty bread or rolls.
Here's the recipe:
Italian Tortellini Soup
4  cans (14 1/2 oz. each) stewed tomatoes
2  cans (14 1/2 oz. each) low-salt beef broth or bouillon
2  Tbs. chopped fresh basil (or more)
1/2  tsp. freshly ground pepper
1  med. zucchini, halved and thinly sliced
3/4  lb. fresh or frozen green beans
3/4  lb. Italian sausage (loose) browned and drained (1/2 of sausage may be "hot")
8  oz. fresh or frozen tortellini w/cheese
1  tsp. minced garlic
3/4  tsp. oregano
In a large stock pot brown the sausage.  Drain the fat.  Add tomatoes and broth and bring to boil.  Reduce heat.  Add remaining ingredients and cook approximately 10-15 minutes, until tortellini is tender.  Serve with grated parmesan.